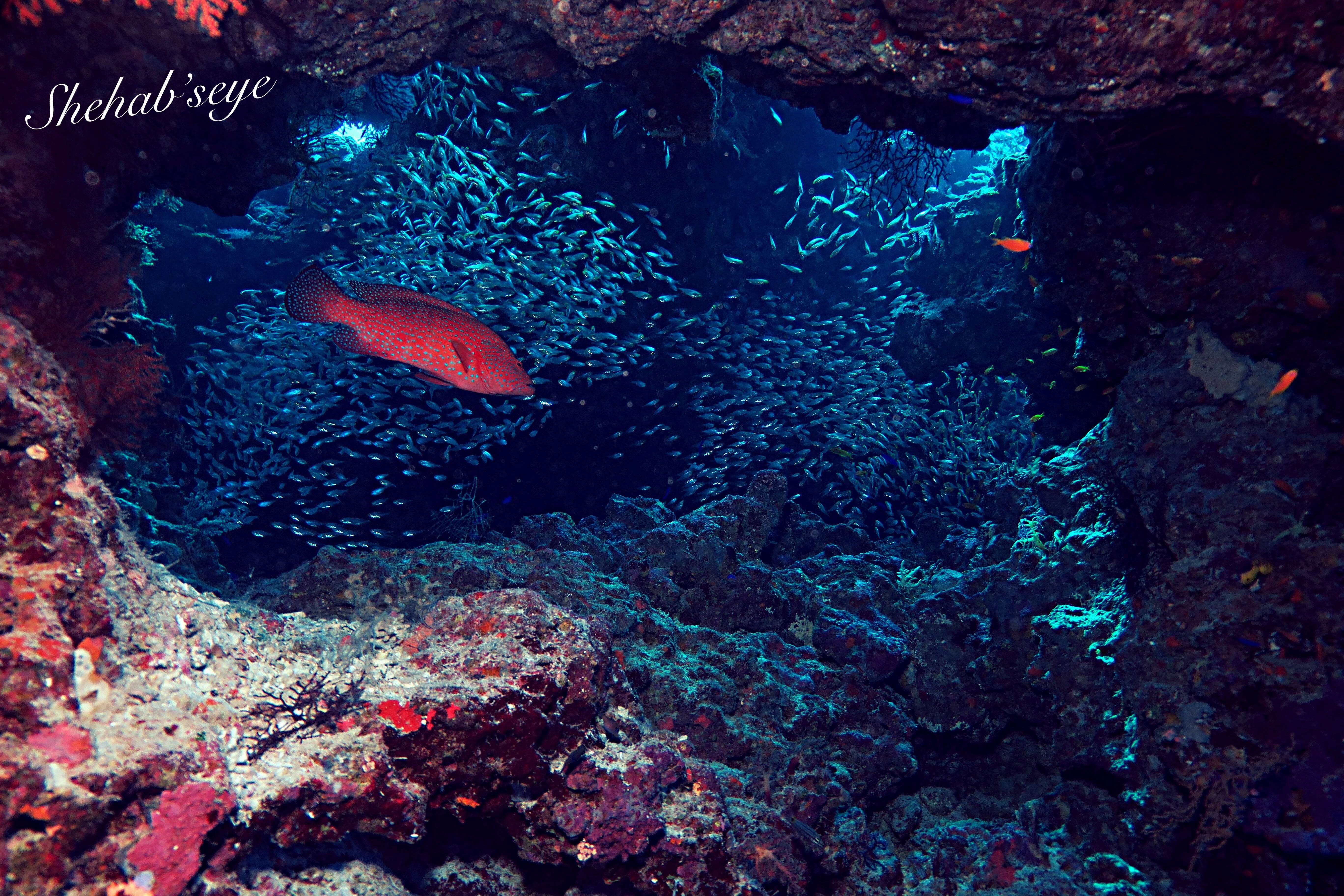 Daily Diving in Hurghada
Each day, diving in Hurghada with Shehab's boat consists of 2 dive sites. These dive sites vary from stunning, colourful shallow coral gardens to deep drop-offs with incredible topography, from wreck dives to deep drift dives. For guests wishing to complete multiple days of diving, we will try to ensure you experience the full variety of sites on offer here when diving in Hurghada, so you have a collection of unforgettable memories. The dive sites each day are chosen based on the experience level of guests and there is something for everyone. If you have particular requests, we will always try to accommodate them and consider them in the daily dive plan.
Your day of diving in Hurghada will begin with collection from your Hurghada hotel* around 7:45am and transfer to the Marina, where you are welcomed on board by our friendly dive crew. You will be given a tour of the boat, wet and dry areas, toilets, free tea, coffee and water facilities and sun deck. Any pre-sanitised hire equipment will be prepared and shared with you. You are free to enjoy the sun and stunning views of the ocean as we depart from the harbour.
As our captain navigates to our first dive site, your dive professional will lead a thorough briefing on the characteristics of your first dive site, identifying local species and currents enabling you to optimise your time underwater. Groups of all sizes are welcome and solo divers will be matched with a suitable buddy.
Divers will be grouped according to experience and certification level to allow for all guests to enjoy their day diving in Hurghada. Each dive group will not exceed 5 divers and will be accompanied by a dive professional Divemaster or Instructor. Your dive professional will guide you around the dive site, considering your safety underwater whilst leading you to the plethora of incredible underwater life and magnificent sites to behold. Their many years of experience diving in Hurghada enable them to spot interesting creatures, often well camouflaged or hiding in crevices and they will share them with you. If desired, your dive professional can capture your moments underwater on film so you have a permanent record of your adventures.
On our return to the boat from the first dive, a buffet style lunch has been lovingly prepared by our talented chef, consisting of several delicious dishes and a variety of salads allowing you an opportunity to explore the local cuisine. Unlimited tea, coffee and water are available on the boat free of charge. Simply help yourself.
Lie back and relax: enjoying the stunning scenery of the turquoise waters around us during your surface interval. If you are lucky, keep an eye out for our local pods of bottlenose dolphins frequenting this area. Can't sit still? Enjoy snorkelling beside the boat to view the reefs below: this makes our boat ideal for groups including those with non-divers and children who also want to catch a glimpse of our underwater world.
Following a short change of location, a second dive briefing and with a fresh tank full of 200bar you will enter the water for your second visit to our magical environment. After your second dive, we will begin our return trip to the marina whilst you unwind in the sunshine with a fresh local fruit platter. Your guide will share with you any photos from your dives, as you savour the last few moments of an incredible day, making memories of a lifetime diving in the Red Sea.
Included in your daily dive package cost;
Return collection and drop-off from your Hurghada hotel*
Full day trip aboard Shehab's boat
2 daily dive package, including 2 air tanks and weights
Clean and spacious facilities on board
Lunch, fresh local fruits, tea, coffee and water
Knowledgeable and experienced local dive professional guide
Local knowledge of reef sea life and currents
Snorkelling activity during surface interval
Small dive group numbers guaranteed
Use of zodiac for suitably qualified divers
Experienced boat crew to help with mounting, moving and disassembling dive gear
Guides are available in many languages, every effort will be made to provide a guide in your native language where possible
Diving in Hurghada - Price List
50€ 1 day
140€ 3 day package
230€ 5 day package including complimentary equipment rental
300€ 7 day package including complimentary equipment rental
Additional optional extras;
10€ Full hire of sanitised COVID safe dive equipment
10€ Optional third dive on some days
5€ Nitrox tank are available, please pre-book
15€ electronic photos of the days dives to take home with you
*Collection from hotels outside of the Hurghada area is available for a small fee per car. Collection within the Hurghada area is free of charge.